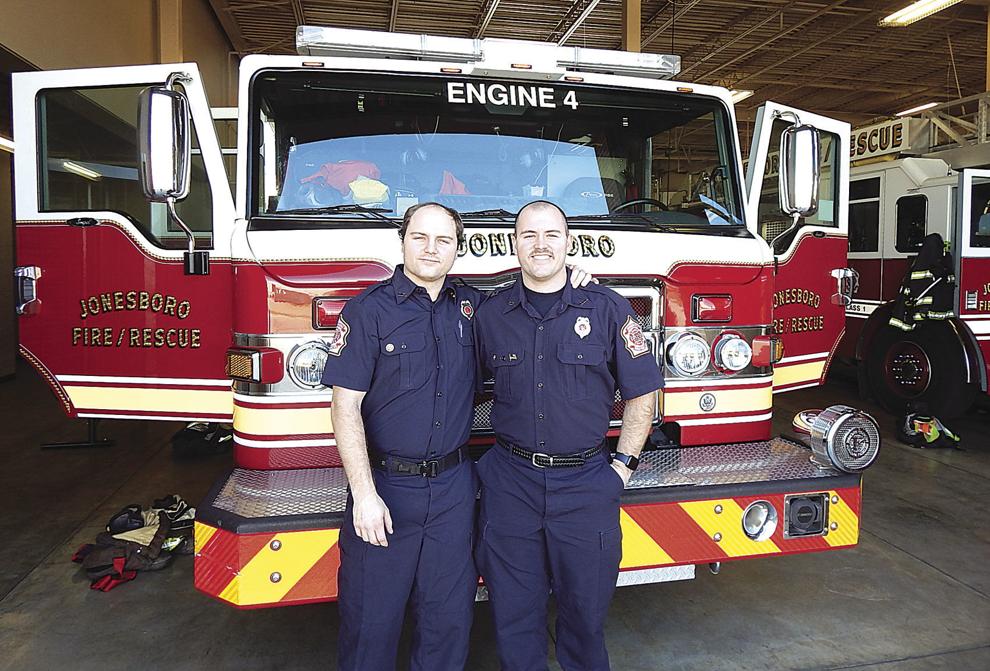 JONESBORO — A spur of the moment decision changed the lives of two brothers.
Andrew Tippitt, 30, decided last year to take the entrance exam for the Jonesboro Fire Department. He told his brother, Jake, 28, about it, and the two decided to take the test at the same time.
After obtaining a civil service exam booklet at city hall and studying for about a week, the two took the test and were accepted by the department.
They started at the department on Dec. 17, 2021.
"I had a friend in the department, and he liked it," Andrew said.
He said he was working as a DJ and at his father's pest control company, where he still helps out.
Jake was working nights at a Paragould company.
"I didn't see much of my family in my old job," he said, adding that working 24 hours on and getting 48 hours off has helped his situation.
After being accepted by the department, the Paragould natives attended the Arkansas Fire Training Academy in Camden. They spent six weeks training as emergency medical technicians and seven weeks taking firefighter standards training.
As part of the emergency medical training the two learned how to assist with child birth, treating trauma, applying a tourniquet and medical terminology. All graduates of the academy are certified as EMTs.
The two were able to room together at the academy.
As siblings, however, the two remain competitive.
"He scored one point higher on his (entrance) test," Andrew said.
"He beats me in physical fitness," Jake responded.
Both have a desire to serve the community.
Andrew said even before becoming a firefighter he would stop at a traffic accident and help out as best he could.
"To get paid to serve is a blessing," he said. "I now have the knowledge and skills to help people."
Jake said he was surprised by the trust people give to firefighters.
"It's amazing how the community put their lives in your hands," Jake said. "You're required to be that person."
"We can't call 911; we are 911," Andrew said.
The pair said they serve on different crews, with the department having three crews total.
They said the department has several siblings who serve, as well as a father and son.
"It's kind of a big deal to be hired at the same time," Andrew said.
He said the firefighting community is a close-knit group.
While at the academy, their stepfather died, Andrew said, and they were given a week off to take care of family matters.
Fire crews at the department offer activities outside of the department, Andrew said, such as a Christmas party and a Fireman's Ball. He said it's like having another family for support.
So far, the pair have enjoyed their brief time in the department.
"I feel like it's not what I expected, it's better than I expected," Andrew said.