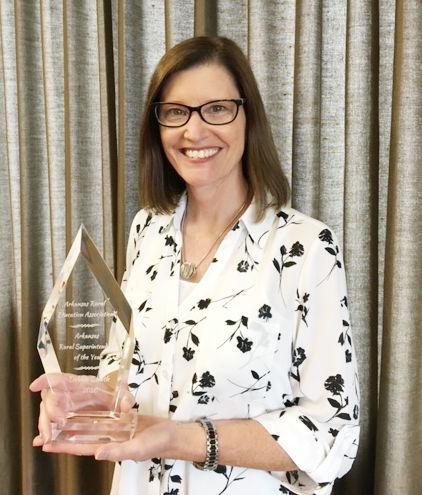 Among the personnel actions approved at the February meeting of the Paragould School District board of directors was the retirement of the district superintendent.
"I started out as a math teacher at Stanford High School in 1988," said Debbie Smith on Feb. 12 in tracing her career, "and then in 1992 I went to Marmaduke High School."
In July 2007, she said, Smith came to Paragould High School as a math teacher, but later became what amounted to a district-wide department head for mathematics and instructional materials. "I was a math coach," Smith said.
Thereafter the district employed her as assistant superintendent, and Smith became interim superintendent in 2011.
"And in 2013 I became superintendent," she said. "I've worked in Greene County all my career."
Smith holds a Bachelor of Science in Education (BSE) in Secondary Mathematics from the University of Arkansas at Fayetteville, as well as a Master of Science in Education and Specialist degree from Arkansas State University.
Smith said the highlights of her career have included the advancements in technology she has seen.
"We went from the old calculators to ChromeBooks to MacBooks," she said, "and now to virtual learning. Kids can take their devices home with them now – these are huge changes."
The 135-district Arkansas Rural Education Association (AREA) chose Smith to be one of two Superintendents of the Year for 2019-2020.
Smith said that apart from transient challenges like tornadoes and the current coronavirus pandemic, an ongoing challenge involves keeping communication lines open between the district and parents.
"One of the biggest challenges has been to keep good, solid parental involvement," she said, "because parents stay so busy."
Another ongoing challenge has been to meet the needs of the individual student, Smith said.
After her retirement, which becomes effective the last day of June, Smith said she plans to spend time with Stan, her husband of 22 years. The couple has no children. "But when people ask me: 'do you have any children,'" Smith observed with a smile, "I tell them: 'yes, I have 3,000 children!'"
Student population of the Paragould School District is roughly 3,000.
In addition, Smith said, she plans to travel to visit family. "We have family all across the country," she said, "and in Great Britain. And now we have great nieces and nephews, so we'll get to spend time with them."
Smith's retirement was not the only personnel action approved at the school board meeting. Other actions approved were as follows:
Resignations
Nicole Siebert, food service worker, effective Jan. 11, 2021
Lantha Garmrath, junior high cheer coaching duties only, effective June 30, 2021
Logan Keener, tennis coaching duties, effective June 30, 2021
Sarah Johnson, 5th and 6th grade girls' basketball coaching duties only, effective June 30, 2021
Employment
Amber Pentecost, food service worker, effective Feb. 9, 2021
Kerri Priess, food service worker, effective Feb. 9, 2021
Lauren Grogan, computer lab manager, effective Feb. 9, 2021
Reemployment
Mike Chipman
Jamie Dial
Tammy Edwards
Evan Elmore
Robert Fox
Jonathan Fulkerson
Kevin Gill
Luke Guenrich
Jennifer Harper
Nick Jankoviak
Marcus Jones
Audrea Martin
Andrea Moore
Matt McGowan
Brandi Newsom
Tim Parrott
Josh Shepherd
Laurel Taylor
Morgan Taylor