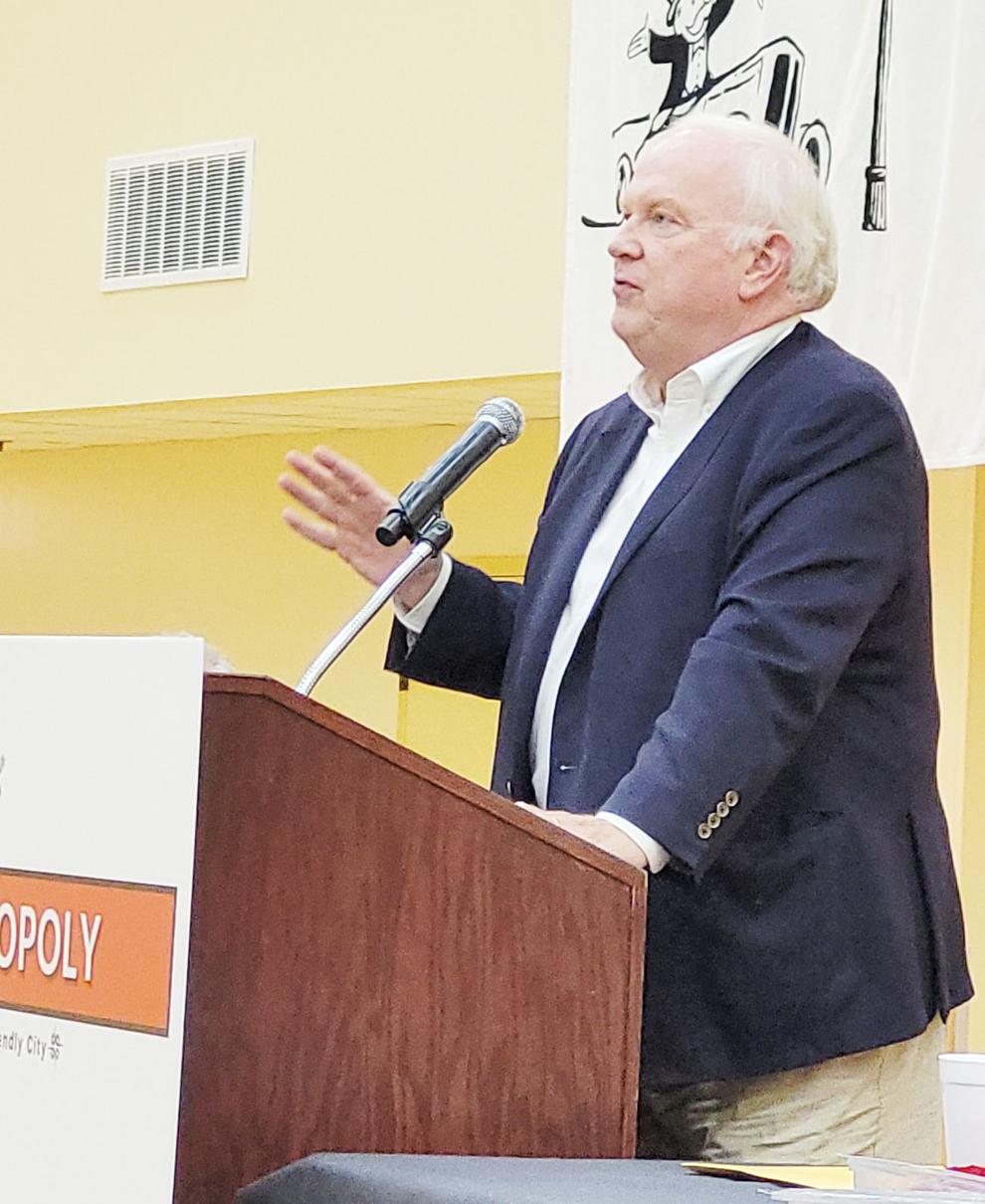 The state of Arkansas as a whole has not always been blessed with growth over its history. That was the message from Arkansas Democrat-Gazette senior editor Rex Nelson to the Paragould Regional Chamber of Commerce at its Sept. 21 annual banquet.
He explained that some years back, he was tasked to explain the history of the state to a meeting of members of the Federal Reserve. But since most of them were not native Arkansans, Nelson learned he had about 25 minutes to do so.
"So I came up with a speech named 'A State of Disaster,'" he said. "Now don't get mad ... but I looked at about 200 years of our history."
Nelson said the history of the state was largely defined by disasters, both natural and manmade. First, of course, was the series of earthquakes in 1811-12. "Now there was one great big one," he said, "where the Mississippi River supposedly ran backwards, and church bells rang as far away as Boston."
Noting that Arkansas was already a difficult place to enter, with its swamps and impenetrable hardwood forests, during the United States' westward expansion, Nelson said the earthquakes made things even worse. "It created the St. Francis Sunken Lands," he said, adding that thousands of acres of trees in those hardwood forests were knocked down, adding to the impassability of the area.
Nelson went on to say that to date, both Missouri and Louisiana have had much larger populations than Arkansas. "And I think a lot of that is due to the fact that during the westward expansion it was much easier to go north through Missouri or south through Louisiana," he said.
Nelson said the damage done by the earthquakes could be seen as partly responsible. "You really had to want to be in Arkansas," he said.
A major manmade disaster, Nelson said, was the decision by the state to secede from the Union in 1861. But he pointed out that the state was in no rush to do so. "That was not a foregone conclusion," he said, "because large parts of this state are covered by mountains." Such areas were totally unsuitable to growing cotton picked by slaves and thus, the people there held no slaves. "They really didn't see the need to fight, to preserve slavery," he said. "But the power base of Arkansas at the time was southeast Arkansas, with the [cotton] planters there," Nelson said. "And they were slaveholders [with] the political power [and] the economic power."
So with secession came the ravages of both the Civil War and subsequent Reconstruction. "How much better off would we have been if we had stayed in the Union?" Nelson asked.
Postwar Arkansas, he said, was hungry for capital, so the state "practically gave away" large amounts of land in the public domain, to railroad owners – "in Paragould, you're named after two railroad magnates" – but also to timber companies.
Nelson noted that both the railroads and the timber companies were in northern states. '[The timber companies] came in and cleared out all our virgin timberland in Arkansas," he said, "during the period of Arkansas history called 'the big cut' [from] the 1880s to the 1920s."
The effect, Nelson said, was to reduce Arkansas to the status of "a third-world colony." He noted like a colony, the state got little in return. "We got erosion," he said, "and we sent out resources, but we didn't get much capital coming back. We were desperately poor."
Cotton remained the chief driver of the state's economy, but more disasters loomed to impact that crop directly, including the "Great Flood" of 1927.
"Arkansas had more land under water and more people displaced than Mississippi and Louisiana combined," Nelson said. He added the flood had washed out bridges as far away from the Mississippi as Little Rock, and that most of the eastern part of the state remained under water for months. "We were by far the most adversely affected state by the Great Flood of 1927," he said. "Not only did the Mississippi flood but all of its tributaries flooded."
Just two years later came the Great Depression, "and of course, states like Arkansas get even poorer."
In 1930-31 came The Great Drought. "So people start to get the heck out of Arkansas," he said. "'Either it's raining or there's no rain at all.'"
Nelson said that while John Steinbeck made Okies famous in The Grapes of Wrath, "there were just as many Arkies as there were Okies," he said.
Then came the Great Flood of '37. "And you can see why people are getting the heck out of Arkansas," he said.
After World War II (1941-45) came the rapid mechanization of agriculture, which he said saw the loss of 90 percent of farming jobs in the state. So more people left the state seeking employment elsewhere, like Chicago, Pittsburgh, Cincinnati and Gary, Ind. "Arkansas lost a higher percentage of its population than any [other] state from 1940-1960," he said. "We went from seven seats in the House to four."
Then in 1957 came the Little Rock school desegregation crisis, "the biggest news story in the world" at the time. "All of our economic activity stopped because of all the negative publicity," Nelson said. "Arkansas was at a low ebb when I was born in 1959."
But then in the 1960s things began turning around, he continued. "In 1966, Winthrop Rockefeller is elected," Nelson said, noting that Rockefeller is his "favorite 20th Century figure in Arkansas history."
Nelson said the story of Rockefeller is of "him helping save our state, and us saving his life."
Nelson described Rockefeller as "the playboy son" of the family, and that a World War II comrade, Frank Newell, had advised him to get as far from the Manhattan social scene as possible. So Rockefeller came to Arkansas in 1953. "And he falls in love with the place," Nelson said. "How could you not, right?"
Rockefeller ran against Democrat Orval Faubus for governor in 1964, and lost. "But Faubus could see the handwriting on the wall," Nelson said, "and he decides six two-year terms is enough."
So Rockefeller ran again in 1966, beating segregationist Justice Jim Johnson, and won again in 1968 against another member of the segregationist "old guard" of the Democratic Party, Marion Crump.
Nelson said two consecutive Republican victories for governor persuaded the Democrats to make changes. "He forced them to modernize," he said. "And he really made possible a Dale Bumpers, a David Pryor and a Bill Clinton."
Nelson noted that although President Clinton's policies were quite liberal, those of Gov. Clinton were substantially more centrist. "We've had nine governors since Rockefeller," he said, "five Democrats and four Republicans, and all of them have been pragmatists. They've governed from the middle, and I think that's a good thing."
Nelson explained that, for example, Mike Huckabee when he speaks on the national stage, "speaks further to the right" than he governed in the state. "Mike Beebe governed a lot like Republican Mike Huckabee had," he said, "and Asa Hutchinson governs a lot like Mike Beebe did."
Nelson also said the state had benefited from a strong Congressional delegation, including House Ways and Means committee chair Wilbur Mills, Senate Appropriations Committee chair John McClellan and Senate Foreign Relations Committee chair J. William Fulbright. "So if you wanted to get anything done in Congress," Nelson said, "you had to go through these three guys from Arkansas."
He added, among other things the three were able to bring about the McClellan-Kerr Arkansas River Navigation System, which made that river navigable to ships as far inland from the Mississippi River as the state's capital city.
Arkansas' private sector has benefited from homegrown entrepreneurs, like Sam Walton, a friend of Nelson's father who went from managing a Ben Franklin variety store in Newport to found what became the Wal-mart mega-chain of stores. "J.B. Hunt also started over here hauling rice in Stuttgart on the eastern part of the state," he said, "and went to northwest Arkansas [to found one of] the most successful trucking companies in the world."
The list goes on, Nelson said, including poultry giant Tyson, the Dillard's department store chain founded by Phil Dillard, Murphy Oil, and Stephens, Inc., founded by Jack and Witt Stephens. "They formed what at one time was the largest investment bank in the country that's not on Wall Street, based in Arkansas," he said. "So we had all these homegrown guys that built some of the greatest companies in the world, based here in Arkansas."
The combination of good governors, strong legislators, homegrown entrepreneurs have made the state an appealing place into which people could locate. "And since 2010 we've gained population and Mississippi has lost," he said.
Nonetheless, Nelson acknowledged, the state's growth has been very uneven. "But I have to tell you I am bullish on Arkansas," he said.